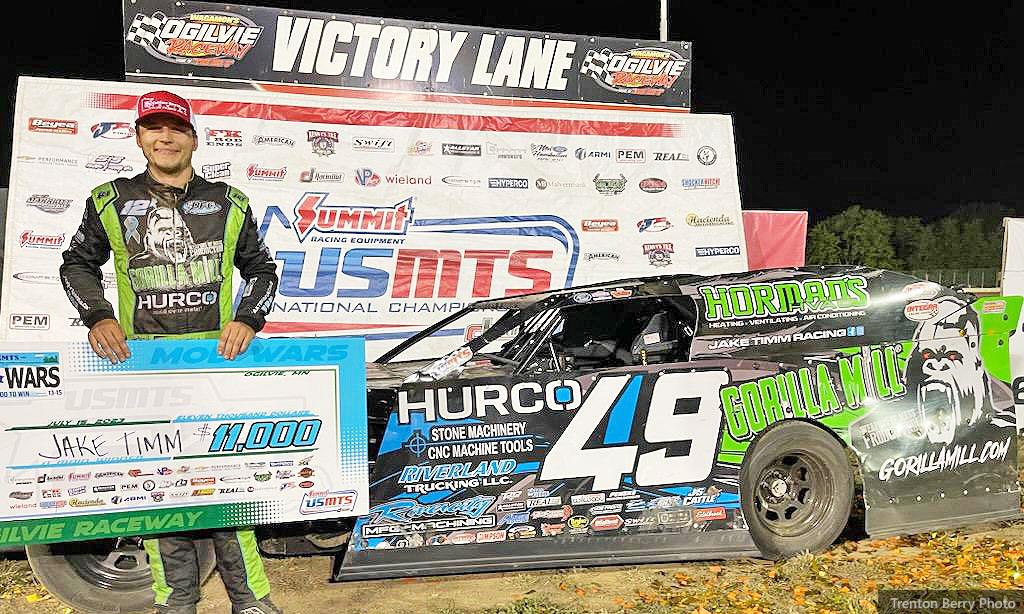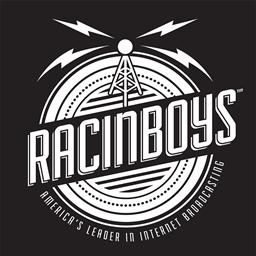 ---
Timm tops USMTS Mod Wars finale at Ogilvie
By USMTS (Ogilvie, MN) -- More than 50 competitors took part in the three-night 3rd Annual Mod Wars at the Ogilvie Raceway in Ogilvie, Minn., but it was just one driver who outshined the rest from the first green flag Thursday to the checkered flag Saturday night.
With the best of the best from the Summit USMTS National Championship presented by RacinDirt and Wissota Modifieds clashing, Jake Timm of nearby Winona, Minn., won Thursday, almost won Friday and then got the job done again in Saturday's $11,000-to-win 50-lap finale.
PHOTO CREDIT Trenton Berry
The 26-year-old son of Bob Timm—the Wissota hall-of-famer and owner of the Mississippi Thunder Speedway—took the lead late in the race to garner his second win here but admittedly "gave it away" Friday night when Jim Chisholm snaked past him with four laps to go.
Timm was a quick learner and patiently bided his time Saturday night as he had to climb from 10th—his worst starting spot of the weekend—before taking the lead from Wyler Wolff with eight laps left to run around the high-banked 3/8-mile clay oval.
"I think that's the smartest race I've ever drove," Timm revealed in victory lane. "I learned from last night I used my tire up too early and tonight I remembered that. When I got into second I just hung on the bottom and saved my stuff and when the time felt right I knew the top was still there because Alex (Williamson) was with me.
Timm edged Wolff at the stripe on lap 43, and moments later the yellow flag waved for the fifth and final time. Timm took off when the green flag returned and paced the field to a solid victory.
"I just kind of waited until I had the right opportunity and moved up and that caution came out at the perfect time. I don't know if it might have been a different outcome if it was a lap earlier or later but yeah that was a blast."
Timm's maneuvers were fairly stealth as everybody was watching the battle for the lead between Wolff and Williamson up front. Wolff led every lap except for one when Williamson reached the flagstand ahead of him on lap 11, and then the final eight laps as Timm showed the way to the 50th and final lap.
By lap 8, Timm was in the top five and then snagged third from USMTS points leader Rodney Sanders with 10 laps complete. Timm took second from Williamson on lap 36 following a restart, and then set his sights on the streaking Wolff.
For Timm, his three-night take home pay reached $17,000 with two wins and a runner-up result in the finale—his second Mod Wars crown.
Sanders was able to sneak by Wolff in the closing laps to finish second and bolster his points before the series gets back at it in five days for another tripleheader at the Pritchard Family auto Stores Mason City Motor Speedway in Mason City, Iowa.
Sabraski—a former USMTS winner at Ogilvie—held on for furth while Ryan Gierke wound up fifth. The rest of the top 10 were Jason Hughes, Williamson, Dereck Ramirez, Cayden Carter and J.T. Johnson.
Johnson clawed his way forward from the 23rd starting spot and took home bonuses from FK Rod Ends and KSE Racing Products as the heard charger of the race.
North Iowa Action Track up next: The Pritchard Family Auto Stores Mason City Motor Speedway finishes up the month of July with a three-night excursion on Thursday, Friday and Saturday, July 20-22, for the 10th Annual USMTS North Iowa Nationals presented by Christie Door Store.
The Summit USMTS National Championship presented by RacinDirt brings the best of the best to North Iowa's Action Track in a prelude to the 25th Anniversary USMTS Silver Jubilee at the same exciting 1/3-mile venue in August.
Medieval USRA Stock Cars, USRA B-Mods and USRA Hobby Stocks will join the program on Thursday. Friday and Saturday will feature the WINS Sprint Car Series and school bus races on both nights.
The Mason City Motor Speedway is a 1/3-mile clay oval located 5.1 miles east of I-35 at exit 194 on SR 122 (at the North Iowa Fairgrounds). For more information, call (515) 832-6000 or check out MasonCityMotorSpeedway.com. You can also follow us on Facebook, Instagram and Twitter.
For its Silver Anniversary season, the Summit USMTS National Championship presented by RacinDirt currently features 45 nights of racing at 15 of America's premier dirt track racing venues in nine states. The winners of those events are set to earn more than $300,000 with nearly $2 million in purses and prize money earmarked for the 2023 campaign.
Watch every USMTS event online live and on-demand from anywhere on any device with RacinDirt. Download the app at Roku, Amazon Fire, iOS, Apple TV or on Google Play.
Visit usmts.com for schedules, points, photos, souvenirs, videos and more. Follow our social media channels on Facebook, Instagram, Twitter and YouTube. Click here to get USMTS news delivered to your inbox.
RESULTS
Summit Racing Equipment A Feature 1 (50 Laps): 1. 49-Jake Timm[10]; 2. 20-Rodney Sanders[6]; 3. 4W-Tyler Wolff[3]; 4. 7A-Shane Sabraski[1]; 5. 26G-Ryan Gierke[4]; 6. 12-Jason Hughes[8]; 7. 15W-Alex Williamson[2]; 8. 4R-Dereck Ramirez[13]; 9. 10C-Cayden Carter[7]; 10. 89-JT Johnson[23]; 11. 24-Brandon Dolman[20]; 12. 11X-Tom Berry Jr[27]; 13. 11-Jody Bellefeuille[17]; 14. 14W-Clayton Wagamon[14]; 15. 02-Tanner Mullens[16]; 16. 75-Terry Phillips[26]; 17. 18A-Landon Atkinson[5]; 18. 60-Dan Ebert[25]; 19. 24C-Jim Chisholm[11]; 20. 27P-Parker Anderson[19]; 21. 112-Brennan Gave[29]; 22. 33Z-Zack VanderBeek[21]; 23. 99L-Steve Lavasseur[31]; 24. 65X-Carlos Ahumada Jr[30]; 25. K9-Will Krup[28]; 26. 4-Jeremy Nelson[18]; 27. 2C-Dave Cain[24]; 28. 06-Jeremy Nelson[15]; 29. 04JR-Adam Ayotte[9]; 30. 7-Al Hejna[22]; 31. 0-Jake O'Neil[12]
Real Racing Wheels B Feature 1 (15 Laps): 1. 06-Jeremy Nelson[1]; 2. 11-Jody Bellefeuille[8]; 3. 27P-Parker Anderson[4]; 4. 33Z-Zack VanderBeek[2]; 5. 89-JT Johnson[13]; 6. 60-Dan Ebert[11]; 7. 88XXX-Randy Klein[9]; 8. 21K-Kyle Brown[12]; 9. 19SB-Lance Mari[16]; 10. 96-Taton Hansen[3]; 11. WIN1-Karl Leavenworth[6]; 12. 5K-Tyler Kaeter[14]; 13. 25-Adam Bohlman[15]; 14. 88T-Tanner Williamson[10]; 15. 38T-Dylan Thornton[5]; 16. 18M-Mason McEvers[18]; 17. 11X-Tom Berry Jr[7]; 18. 87-Darron Fuqua[17]
Real Racing Wheels B Feature 2 (15 Laps): 1. 02-Tanner Mullens[1]; 2. 4-Jeremy Nelson[2]; 3. 24-Brandon Dolman[4]; 4. 7-Al Hejna[10]; 5. 2C-Dave Cain[13]; 6. K9-Will Krup[14]; 7. 88-Eric Lamm[3]; 8. 58X-Gary Christian[7]; 9. 65X-Carlos Ahumada Jr[6]; 10. 75-Terry Phillips[12]; 11. 99L-Steve Lavasseur[5]; 12. 16-Austin Siebert[15]; 13. 112-Brennan Gave[18]; 14. 55H-AJ Hoff[9]; 15. 22-Alan Bohlman[11]; 16. 74-Shaun Kreyer[17]; 17. 30-Matt Leer[8]; 18. 9B-Brendan Blascyk[16]
Simpson Performance Products Heat 1 (8 Laps): 1. 7A-Shane Sabraski[3]; 2. 02-Tanner Mullens[2]; 3. 18A-Landon Atkinson[5]; 4. 06-Jeremy Nelson[7]; 5. 58X-Gary Christian[4]; 6. 65X-Carlos Ahumada Jr[9]; 7. 4R-Dereck Ramirez[6]; 8. 60-Dan Ebert[10]; 9. 19SB-Lance Mari[1]; 10. 112-Brennan Gave[8]
Fast Shafts Heat 2 (8 Laps): 1. 26G-Ryan Gierke[2]; 2. 49-Jake Timm[4]; 3. 20-Rodney Sanders[6]; 4. 14W-Clayton Wagamon[5]; 5. 30-Matt Leer[1]; 6. 11-Jody Bellefeuille[8]; 7. 21K-Kyle Brown[3]; 8. 2C-Dave Cain[7]; 9. 25-Adam Bohlman[10]; 10. 18M-Mason McEvers[9]
Edelbrock Heat 3 (8 Laps): 1. 10C-Cayden Carter[3]; 2. 24C-Jim Chisholm[4]; 3. 88-Eric Lamm[1]; 4. 27P-Parker Anderson[2]; 5. 99L-Steve Lavasseur[7]; 6. WIN1-Karl Leavenworth[9]; 7. 88T-Tanner Williamson[8]; 8. 22-Alan Bohlman[10]; 9. 75-Terry Phillips[5]; 10. K9-Will Krup[6]
Wieland Heat 4 (8 Laps): 1. 12-Jason Hughes[4]; 2. 15W-Alex Williamson[5]; 3. 4-Jeremy Nelson[2]; 4. 0-Jake O'Neil[6]; 5. 96-Taton Hansen[8]; 6. 55H-AJ Hoff[3]; 7. 88XXX-Randy Klein[9]; 8. 5K-Tyler Kaeter[7]; 9. 9B-Brendan Blascyk[1]; 10. 87-Darron Fuqua[10]
VP Race Fuels Heat 5 (8 Laps): 1. 04JR-Adam Ayotte[1]; 2. 4W-Tyler Wolff[6]; 3. 33Z-Zack VanderBeek[2]; 4. 24-Brandon Dolman[3]; 5. 11X-Tom Berry Jr[4]; 6. 38T-Dylan Thornton[5]; 7. 7-Al Hejna[7]; 8. 89-JT Johnson[8]; 9. 16-Austin Siebert[9]; 10. 74-Shaun Kreyer[10]
Qualifying 1 (2 Laps): 1. 4R-Dereck Ramirez, 00:16.859[1]; 2. 18A-Landon Atkinson, 00:17.232[8]; 3. 58X-Gary Christian, 00:17.327[6]; 4. 7A-Shane Sabraski, 00:17.371[3]; 5. 02-Tanner Mullens, 00:17.380[10]; 6. 19SB-Lance Mari, 00:17.510[5]; 7. 06-Jeremy Nelson, 00:17.551[4]; 8. 112-Brennan Gave, 00:17.579[2]; 9. 65X-Carlos Ahumada Jr, 00:17.733[7]; 10. 60-Dan Ebert, 00:17.991[9]
Qualifying 2 (2 Laps): 1. 20-Rodney Sanders, 00:17.092[1]; 2. 14W-Clayton Wagamon, 00:17.092[2]; 3. 49-Jake Timm, 00:17.321[7]; 4. 21K-Kyle Brown, 00:17.453[10]; 5. 26G-Ryan Gierke, 00:17.465[8]; 6. 30-Matt Leer, 00:17.488[9]; 7. 2C-Dave Cain, 00:17.611[4]; 8. 11-Jody Bellefeuille, 00:17.651[3]; 9. 18M-Mason McEvers, 00:17.769[5]; 10. 25-Adam Bohlman, 00:18.378[6]
Qualifying 3 (2 Laps): 1. K9-Will Krup, 00:17.122[7]; 2. 75-Terry Phillips, 00:17.381[1]; 3. 24C-Jim Chisholm, 00:17.387[9]; 4. 10C-Cayden Carter, 00:17.469[5]; 5. 27P-Parker Anderson, 00:17.660[8]; 6. 88-Eric Lamm, 00:17.769[2]; 7. 99L-Steve Lavasseur, 00:17.799[3]; 8. 88T-Tanner Williamson, 00:17.843[10]; 9. WIN1-Karl Leavenworth, 00:17.870[4]; 10. 22-Alan Bohlman, 00:18.632[6]
Qualifying 4 (2 Laps): 1. 0-Jake O'Neil, 00:17.109[4]; 2. 15W-Alex Williamson, 00:17.432[10]; 3. 12-Jason Hughes, 00:17.661[6]; 4. 55H-AJ Hoff, 00:17.673[7]; 5. 4-Jeremy Nelson, 00:17.715[3]; 6. 9B-Brendan Blascyk, 00:17.902[9]; 7. 5K-Tyler Kaeter, 00:17.935[1]; 8. 96-Taton Hansen, 00:17.998[2]; 9. 88XXX-Randy Klein, 00:18.063[8]; 10. 87-Darron Fuqua, 00:18.063[5]
Qualifying 5 (2 Laps): 1. 4W-Tyler Wolff, 00:17.385[9]; 2. 38T-Dylan Thornton, 00:17.462[1]; 3. 11X-Tom Berry Jr, 00:17.483[2]; 4. 24-Brandon Dolman, 00:17.599[6]; 5. 33Z-Zack VanderBeek, 00:17.615[4]; 6. 04JR-Adam Ayotte, 00:17.766[3]; 7. 7-Al Hejna, 00:18.059[7]; 8. 89-JT Johnson, 00:18.124[5]; 9. 16-Austin Siebert, 00:18.320[10]; 10. 74-Shaun Kreyer, 00:18.808[8]
========================================================================================================================
WISSOTA MIDWEST MODS
Midwest Modifieds Feature (30 Laps): 1. 3T-Travis Schulte[1]; 2. 13-Nick Koehler[9]; 3. 85-Jamie Davis[6]; 4. 71-Nate Reinke[3]; 5. 19X-James Trantina III[8]; 6. 19-Lucas Rodin[17]; 7. 23DD-George Dalbeck[12]; 8. 21-Jake Smith[19]; 9. 33C-Cole Boston[15]; 10. 38JV-Jason Vejtruba[11]; 11. 57-Corey Storck[24]; 12. 16V-Jason VandeKamp[20]; 13. 16-Garrett Paull[4]; 14. 74-Gary James Nelson[23]; 15. 11R-Landyn Randt[14]; 16. 11X-Jason Schill[21]; 17. 48-Cole Kelley[2]; 18. (DNF) 50H-Haley Lee[13]; 19. (DNF) 11-Ashton Schulte[7]; 20. (DNF) 04N-Nick Ayotte[10]; 21. (DNF) 5-David Swearingen[22]; 22. (DNF) 17B-Zach Benson[5]; 23. (DNF) 87-William Moelter[16]; 24. (DNF) 60-Dan Ebert[18]
B Feature 1 (12 Laps): 1. 19-Lucas Rodin[8]; 2. 21-Jake Smith[1]; 3. 11X-Jason Schill[5]; 4. 74-Gary James Nelson[4]; 5. 69R-Terry Reilly[6]; 6. 21B-Brandon Jensen[18]; 7. 17-Ashley Mehrwerth[3]; 8. 3JR-Lane Johnson[14]; 9. 14K-Shawn Kelley[2]; 10. 3P-David Pixley[11]; 11. 21W-Wyatt Boyum[12]; 12. 97-Michelle Hutt[9]; 13. 50-Brady Caul[15]; 14. 00-Jason Hobbs[13]; 15. 7G-Rick Grams[7]; 16. 24D-Anthony Dallman[17]; 17. (DNF) 32N-Nick Howard[16]; 18. (DNF) 27-Corey Mehrwerth[10]
B Feature 2 (12 Laps): 1. 60-Dan Ebert[5]; 2. 16V-Jason VandeKamp[1]; 3. 5-David Swearingen[11]; 4. 57-Corey Storck[3]; 5. 2G-Tanner Gehl[7]; 6. 33CC-Cole Chernosky[14]; 7. 2B-Tayten Blascyk[4]; 8. 08-Levi Voss[13]; 9. 32B-Brennan Schmidt[2]; 10. 2-Ariel Mueller[10]; 11. 3SR-Lorin Johnson[6]; 12. 12-Matt Everts[9]; 13. 7P-Cory Peterson[15]; 14. 32J-John Howard[12]; 15. 4W-Joey Wagamon[8]; 16. (DNS) 69-Justin Jones; 17. (DNS) 15G-Eric Gadach; 18. (DNS) QQ-Tony Bahr
Heat 1 (8 Laps): 1. 11-Ashton Schulte[2]; 2. 71-Nate Reinke[6]; 3. 33C-Cole Boston[1]; 4. 57-Corey Storck[3]; 5. 32B-Brennan Schmidt[7]; 6. 97-Michelle Hutt[5]; 7. 2G-Tanner Gehl[10]; 8. 2-Ariel Mueller[4]; 9. 08-Levi Voss[8]; 10. 32N-Nick Howard[9]; 11. (DNF) 21B-Brandon Jensen[11]
Heat 2 (8 Laps): 1. 19X-James Trantina III[2]; 2. 13-Nick Koehler[4]; 3. 87-William Moelter[1]; 4. 16V-Jason VandeKamp[5]; 5. 3SR-Lorin Johnson[3]; 6. 60-Dan Ebert[8]; 7. 11X-Jason Schill[11]; 8. 5-David Swearingen[7]; 9. 33CC-Cole Chernosky[9]; 10. 50-Brady Caul[6]; 11. (DNF) 15G-Eric Gadach[10]
Heat 3 (8 Laps): 1. 48-Cole Kelley[4]; 2. 16-Garrett Paull[6]; 3. 85-Jamie Davis[8]; 4. 04N-Nick Ayotte[9]; 5. 69R-Terry Reilly[2]; 6. 4W-Joey Wagamon[1]; 7. 19-Lucas Rodin[10]; 8. 3P-David Pixley[5]; 9. 00-Jason Hobbs[3]; 10. 7P-Cory Peterson[7]
Heat 4 (8 Laps): 1. 38JV-Jason Vejtruba[1]; 2. 3T-Travis Schulte[10]; 3. 50H-Haley Lee[4]; 4. 14K-Shawn Kelley[5]; 5. 17-Ashley Mehrwerth[7]; 6. 74-Gary James Nelson[9]; 7. 12-Matt Everts[3]; 8. 32J-John Howard[8]; 9. (DNF) 69-Justin Jones[2]; 10. (DNF) 24D-Anthony Dallman[6]
Heat 5 (8 Laps): 1. 17B-Zach Benson[3]; 2. 23DD-George Dalbeck[2]; 3. 21-Jake Smith[1]; 4. 11R-Landyn Randt[6]; 5. 7G-Rick Grams[4]; 6. 2B-Tayten Blascyk[9]; 7. 27-Corey Mehrwerth[5]; 8. 21W-Wyatt Boyum[7]; 9. 3JR-Lane Johnson[8]; 10. (DNS) QQ-Tony Bahr
WISSOTA MOD FOUR
Mod Fours Feature (20 Laps): 1. 5H-Dustin Holtquist[1]; 2. TB81-Tommy Bawden[4]; 3. 7L-Tyler Larson[9]; 4. XL1-Chad Funt[17]; 5. 18-Luke Erlandson[3]; 6. 6-Patrick Specht[6]; 7. 3-Josh Madson[13]; 8. 3G-Craig Gertsema[8]; 9. 2-Andrew Funt[14]; 10. 60-Maeghan Milz[18]; 11. 14T-Rowan Tramm[10]; 12. 89-Chris McClain[11]; 13. N88-Gerrald Nohner[7]; 14. N28-Hailey Nohner[16]; 15. (DNF) 15H-Connor Hass[2]; 16. (DNF) 92-Nick Seitz[15]; 17. (DNF) 31J-Jordan Fischer[19]; 18. (DNF) 5-Robert Holtquist[12]; 19. (DNS) 17-David Slovick
Heat 1 (8 Laps): 1. 17-David Slovick[1]; 2. TB81-Tommy Bawden[4]; 3. N88-Gerrald Nohner[3]; 4. 3G-Craig Gertsema[5]; 5. 89-Chris McClain[6]; 6. 7L-Tyler Larson[9]; 7. 2-Andrew Funt[2]; 8. 3-Josh Madson[10]; 9. 92-Nick Seitz[8]; 10. N28-Hailey Nohner[7]
Heat 2 (8 Laps): 1. 18-Luke Erlandson[2]; 2. 5H-Dustin Holtquist[7]; 3. 15H-Connor Hass[8]; 4. 6-Patrick Specht[6]; 5. 5-Robert Holtquist[4]; 6. 14T-Rowan Tramm[9]; 7. (DNF) XL1-Chad Funt[3]; 8. (DNF) 60-Maeghan Milz[1]; 9. (DNS) 31J-Jordan Fischer
WISSOTA STREET STOCK
Street Stocks Feature (20 Laps): 1. 111-Keith Tourville[4]; 2. 11-Kyle Dykhoff[13]; 3. 40-Nick Traynor[2]; 4. 11JR-Jeff Ekdahl[10]; 5. 84-Hunter VanGilder[1]; 6. 21-Jim Gullikson[7]; 7. 01-Justin Pogones[14]; 8. 980-Kaden Woodie[3]; 9. 05-Kyle Howland[5]; 10. 357-Kyle King[6]; 11. 19C-Charlie Shiek[11]; 12. 37X-Quain Busitzky[18]; 13. 11L-Levi Randt[9]; 14. 87X-Quentin Busitzky[15]; 15. 57-Jim King[17]; 16. 77-Daniel Harstad[8]; 17. (DNF) 55-Thomas Worth[12]; 18. (DNF) 17B-Rachel Boston[16]; 19. (DNF) 60-Andrew Milz[19]
Heat 1 (8 Laps): 1. 40-Nick Traynor[2]; 2. 84-Hunter VanGilder[5]; 3. 357-Kyle King[4]; 4. 77-Daniel Harstad[3]; 5. 11L-Levi Randt[6]; 6. 19C-Charlie Shiek[7]; 7. 55-Thomas Worth[9]; 8. 17B-Rachel Boston[8]; 9. 57-Jim King[10]; 10. 60-Andrew Milz[1]
Heat 2 (8 Laps): 1. 980-Kaden Woodie[1]; 2. 111-Keith Tourville[3]; 3. 21-Jim Gullikson[2]; 4. 05-Kyle Howland[7]; 5. 11JR-Jeff Ekdahl[5]; 6. 11-Kyle Dykhoff[6]; 7. 01-Justin Pogones[8]; 8. 87X-Quentin Busitzky[9]; 9. 37X-Quain Busitzky[4]
WISSOTA HORNET
Hornets Feature (15 Laps): 1. 94A-Bobie Arnes[1]; 2. 0K-Joseph Wilber[2]; 3. 37A-Alex Aderman[4]; 4. 16-Brady Albertson[3]; 5. 9G-Carson Gotelaere[16]; 6. 13-Brandon Nyberg[5]; 7. 11PX-Presley Patrin[6]; 8. 24-Marcus Ammerman[17]; 9. 89J-Randy Jacoboski[8]; 10. 53-Branley Theel[10]; 11. 8X-Adam Throener[11]; 12. 23T-Anthony Jenson[7]; 13. 11A-Jeff Hass[9]; 14. 21-Blake Hawker[13]; 15. 377-Ella Sparks[12]; 16. 264-Mark Lambert[14]; 17. 34-William Masurka[15]
Heat 1 (8 Laps): 1. 94A-Bobie Arnes[6]; 2. 13-Brandon Nyberg[2]; 3. 0K-Joseph Wilber[9]; 4. 23T-Anthony Jenson[5]; 5. 53-Branley Theel[1]; 6. 8X-Adam Throener[3]; 7. 21-Blake Hawker[4]; 8. 264-Mark Lambert[7]; 9. 34-William Masurka[8]
Heat 2 (8 Laps): 1. 37A-Alex Aderman[2]; 2. 16-Brady Albertson[6]; 3. 11PX-Presley Patrin[1]; 4. 11A-Jeff Hass[4]; 5. 89J-Randy Jacoboski[7]; 6. 377-Ella Sparks[5]; 7. (DNF) 9G-Carson Gotelaere[8]; 8. (DNF) 24-Marcus Ammerman[3]
---
Submitted By: Kirk Elliott
Back to News