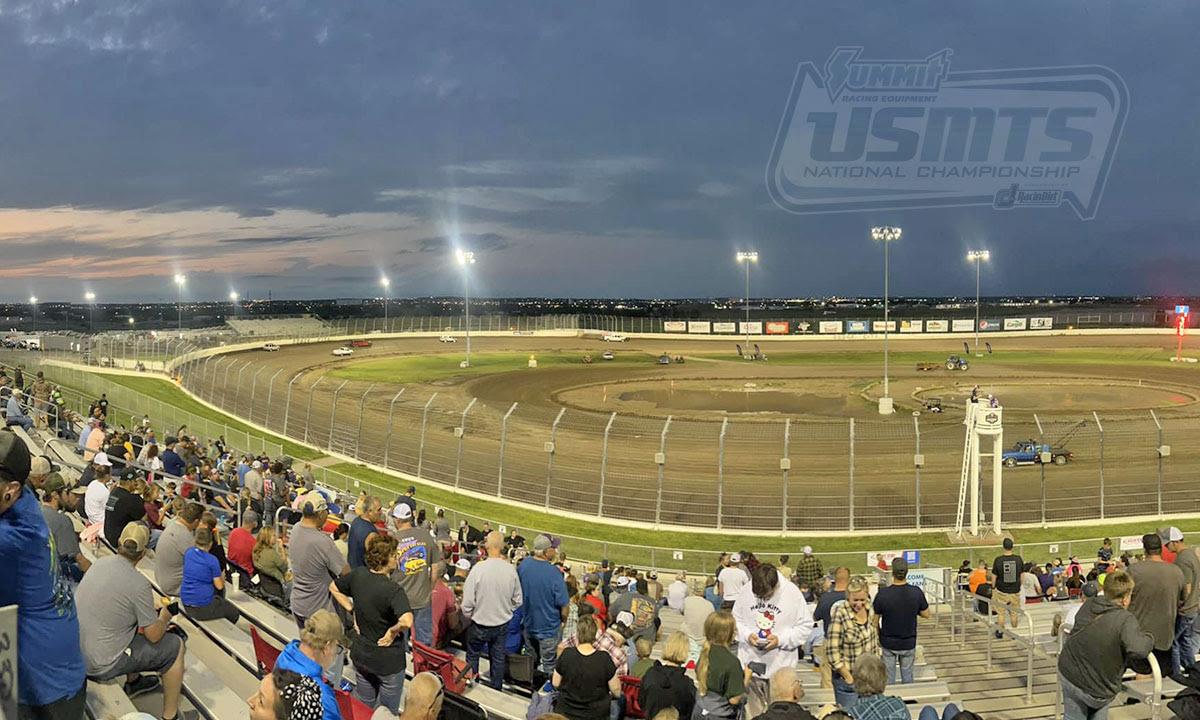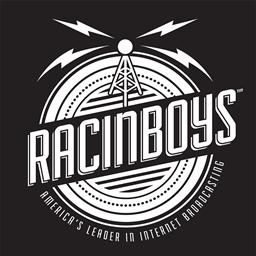 ---
Rain results in Friday USMTS doubleheader at Ogilvie
By USMTS (Ogilvie, MN) -- With heat races in the book, the remainder of the program for the Summit USMTS National Championship presented by RacinDirt was rained out at the Ogilvie Raceway on Thursday night, resulting in a doubleheader Friday on the second night of Mod Wars.
The remaining portion of Thursday's opening night show will be finished Friday starting at 5 p.m. The pit and grandstand gates will open at 3.
The top eight drivers in passing points following five heat races are Dereck Ramirez, Tanner Mullens, Rodney Sanders, Jake Timm, Eric Lamm, Tyler Wolff, Ryan Gierke and Brandon Dolman. They will redraw for their starting positions in the first four rows of the Summit Racing Equipment "A" Feature.
If you have a Thursday night wristband for the grandstands, bring it with you plus $10 for all the Friday racing.
Following the completion of Thursday's program which pays $3,000 to win the feature race, the complete show originally slated for Friday night will tackle the high banks of Ogilvie Raceway, with live entertainment after the races.
Summit USMTS Drivers are racing for $5,000 to win on Friday and a top prize of $11,000 on Saturday.
On Saturday, the pits open at 4 p.m., grandstands open at 5, hot laps and qualifying begin at 6 and racing gets underway at 6:30.
The Ogilvie Raceway is a high-banked 3/8-mile clay oval located less than one hour north of the twin cities on Hwy. 23, or 5 miles west of Hwy. 65, or 11 miles east from Hwy.169 in Milaca, or 1 mile east of Hwy. 47 to 1539 MN-23, Ogilvie, MN 56358.
For more information, visit https://www.ogilvieraceway.com/ or email nate@ogilvieraceway.com. You can also follow Ogilvie Raceway's social media platforms on Facebook https://www.facebook.com/profile.php?id=100064898671442, Instagram https://www.instagram.com/ogilvieraceway/ and Twitter https://twitter.com/ogilvieraceways.
For its Silver Anniversary season, the Summit USMTS National Championship presented by RacinDirt currently features 45 nights of racing at 15 of America's premier dirt track racing venues in nine states. The winners of those events are set to earn more than $300,000 with nearly $2 million in purses and prize money earmarked for the 2023 campaign.
Watch every USMTS event online live and on-demand from anywhere on any device with RacinDirt. Download the app at Roku, Amazon Fire, iOS, Apple TV or on Google Play.
Visit usmts.com for schedules, points, photos, souvenirs, videos and more. Follow our social media channels on Facebook, Instagram, Twitter and YouTube. Click here to get USMTS news delivered to your inbox.
RESULTS
Simpson Performance Products Heat 1 (8 Laps): 1. 26G-Ryan Gierke[1]; 2. 06-Jeremy Nelson[3]; 3. 75-Terry Phillips[4]; 4. 65X-Carlos Ahumada Jr[6]; 5. WIN1-Karl Leavenworth[2]; 6. 12-Jason Hughes[5]; 7. 58X-Gary Christian[7]; 8. 88XXX-Randy Klein[8]; 9. (DNS) 99-Mark Kangas
Fast Shafts Heat 2 (8 Laps): 1. 24-Brandon Dolman[1]; 2. 10C-Cayden Carter[3]; 3. 02-Tanner Mullens[5]; 4. 60-Dan Ebert[6]; 5. 99L-Steve Lavasseur[4]; 6. 112-Brennan Gave[2]; 7. 7-Al Hejna[8]; 8. 18M-Mason McEvers[9]; 9. 33Z-Zack VanderBeek[7]
Edelbrock Heat 3 (8 Laps): 1. 49-Jake Timm[2]; 2. 4-Jeremy Nelson[3]; 3. 15W-Alex Williamson[1]; 4. 24C-Jim Chisholm[5]; 5. 18A-Landon Atkinson[7]; 6. 14W-Clayton Wagamon[6]; 7. 12P-Joey Price[4]; 8. 2C-Dave Cain[8]; 9. 25-Adam Bohlman[9]
Wieland Heat 4 (8 Laps): 1. 88-Eric Lamm[2]; 2. 4R-Dereck Ramirez[6]; 3. 16-Austin Siebert[1]; 4. 89-JT Johnson[3]; 5. 27P-Parker Anderson[4]; 6. 7A-Shane Sabraski[7]; 7. 0-Jake O'Neil[5]; 8. 87-Darron Fuqua[9]; 9. 5K-Tyler Kaeter[8]
VP Race Fuels Heat 5 (8 Laps): 1. 4W-Tyler Wolff[2]; 2. 38T-Dylan Thornton[1]; 3. 20-Rodney Sanders[5]; 4. 11X-Tom Berry Jr[4]; 5. 22-Alan Bohlman[8]; 6. 21K-Kyle Brown[7]; 7. K9-Will Krup[6]; 8. (DNS) 10B-Brandon Givens; 9. (DQ) 96-Taton Hansen[3]
Qualifying 1 (2 Laps): 1. 65X-Carlos Ahumada Jr, 00:17.553[5]; 2. 12-Jason Hughes, 00:17.722[6]; 3. 75-Terry Phillips, 00:17.752[3]; 4. 06-Jeremy Nelson, 00:18.120[9]; 5. WIN1-Karl Leavenworth, 00:18.339[7]; 6. 26G-Ryan Gierke, 00:18.548[1]; 7. 58X-Gary Christian, 00:18.722[2]; 8. 88XXX-Randy Klein, 00:19.157[4]; 9. 99-Mark Kangas, 00:19.883[8]
Qualifying 2 (2 Laps): 1. 60-Dan Ebert, 00:17.365[9]; 2. 02-Tanner Mullens, 00:17.404[8]; 3. 99L-Steve Lavasseur, 00:17.715[2]; 4. 10C-Cayden Carter, 00:17.747[5]; 5. 112-Brennan Gave, 00:17.833[7]; 6. 24-Brandon Dolman, 00:17.844[4]; 7. 33Z-Zack VanderBeek, 00:18.063[1]; 8. 7-Al Hejna, 00:18.183[6]; 9. 18M-Mason McEvers, 00:18.391[3]
Qualifying 3 (2 Laps): 1. 14W-Clayton Wagamon, 00:17.097[8]; 2. 24C-Jim Chisholm, 00:17.209[9]; 3. 12P-Joey Price, 00:17.432[1]; 4. 4-Jeremy Nelson, 00:17.517[2]; 5. 49-Jake Timm, 00:17.548[4]; 6. 15W-Alex Williamson, 00:17.651[7]; 7. 18A-Landon Atkinson, 00:17.692[3]; 8. 2C-Dave Cain, 00:18.150[5]; 9. 25-Adam Bohlman, 00:18.655[6]
Qualifying 4 (2 Laps): 1. 4R-Dereck Ramirez, 00:17.109[3]; 2. 0-Jake O'Neil, 00:17.415[2]; 3. 27P-Parker Anderson, 00:17.472[1]; 4. 89-JT Johnson, 00:17.478[6]; 5. 88-Eric Lamm, 00:17.741[4]; 6. 16-Austin Siebert, 00:17.779[5]; 7. 7A-Shane Sabraski, 00:18.266[9]; 8. 5K-Tyler Kaeter, 00:18.286[8]; 9. 87-Darron Fuqua, 00:18.507[7]
Qualifying 5 (2 Laps): 1. K9-Will Krup, 00:16.826[1]; 2. 20-Rodney Sanders, 00:17.189[2]; 3. 11X-Tom Berry Jr, 00:17.384[8]; 4. 96-Taton Hansen, 00:17.438[7]; 5. 4W-Tyler Wolff, 00:17.441[3]; 6. 38T-Dylan Thornton, 00:17.521[4]; 7. 21K-Kyle Brown, 00:17.736[6]; 8. 22-Alan Bohlman, 00:18.424[5]; 9. 10B-Brandon Givens, 00:18.424[9]
========================================================================================================================
WISSOTA MIDWEST MODS
Heat 1 (8 Laps): 1. 17B-Zach Benson[6]; 2. 21W-Wyatt Boyum[3]; 3. 33CC-Cole Chernosky[4]; 4. 44FX-Mark Froehlich[8]; 5. B37-Cody Borgeson[7]; 6. 63JR-Brady Larson[2]; 7. 11R-Landyn Randt[5]; 8. 3D-Daniel Bjonfald[1]; 9. 445-Charles Bistodeau[9]
Heat 2 (8 Laps): 1. 3T-Travis Schulte[1]; 2. 19-Lucas Rodin[2]; 3. 21-Jake Smith[5]; 4. 19X-James Trantina III[7]; 5. 3SR-Lorin Johnson[4]; 6. 7-Shane Sabraski[8]; 7. 2-Ariel Mueller[6]; 8. 18JR-Ken Dallman Jr[3]
Heat 3 (8 Laps): 1. 5-David Swearingen[6]; 2. 04N-Nick Ayotte[8]; 3. 21L-Jimmy Latvala[2]; 4. 3JR-Lane Johnson[4]; 5. 11-Ashton Schulte[7]; 6. 88T-Jacob Toepper[3]; 7. 4W-Joey Wagamon[5]; 8. (DNF) 12-Derek Stanoch[1]
Heat 4 (8 Laps): 1. 11X-Jason Schill[1]; 2. 16V-Jason VandeKamp[8]; 3. 23DD-George Dalbeck[2]; 4. 2B-Tayten Blascyk[3]; 5. 9M-Jake Molitor[5]; 6. 33C-Cole Boston[7]; 7. 17-Ashley Mehrwerth[4]; 8. 46G-Brockton Grams[6]
WISSOTA MOD FOUR
Heat 1 (8 Laps): 1. 5-Robert Holtquist[4]; 2. XL1-Chad Funt[2]; 3. 5H-Dustin Holtquist[3]; 4. 60-Maeghan Milz[8]; 5. 92-Nick Seitz[6]; 6. 89-Chris McClain[1]; 7. 3-Josh Madson[9]; 8. 35-Kage Maciej[5]; 9. N28-Hailey Nohner[7]
Heat 2 (8 Laps): 1. TB81-Tommy Bawden[2]; 2. N88-Gerrald Nohner[5]; 3. 7L-Tyler Larson[8]; 4. 6-Patrick Specht[7]; 5. 5JF-Jonathen Feda[1]; 6. 14T-Rowan Tramm[6]; 7. 31J-Jordan Fischer[9]; 8. (DNF) 2-Andrew Funt[3]; 9. (DNF) 04-Tommy Pogones[4]
WISSOTA STREET STOCK
Heat 1 (8 Laps): 1. 111-Keith Tourville[2]; 2. 11JR-Jeff Ekdahl[4]; 3. 21-Jim Gullikson[7]; 4. 55-Thomas Worth[3]; 5. 11-Sam Fankhauser[8]; 6. 37X-Quain Busitzky[1]; 7. 87X-Quentin Busitzky[6]; 8. 11L-Levi Randt[5]
Heat 2 (8 Laps): 1. 19-Cody Cimfl[2]; 2. 01-Justin Pogones[3]; 3. 19J-Brady Larson[6]; 4. 40-Nick Traynor[7]; 5. 17B-Rachel Boston[4]; 6. 19C-Charlie Shiek[5]; 7. 60-Andrew Milz[1]
---
Submitted By: Kirk Elliott
Back to News